Everything You Need To Know About
YOKUU's Probiotic Hand Soap

Get ready for happier hands.
A hand soap… with probiotics?! Revolutionary, we know! But why would you get rid of all that good stuff on your hands?
With our brand new formula, you're giving your hands the clean they deserve, and keeping them healthy with probiotics. Because each time you wash your hands, you're introducing billions of little friends to your skin's microbiome. They'll strengthen your natural barrier against pathogens.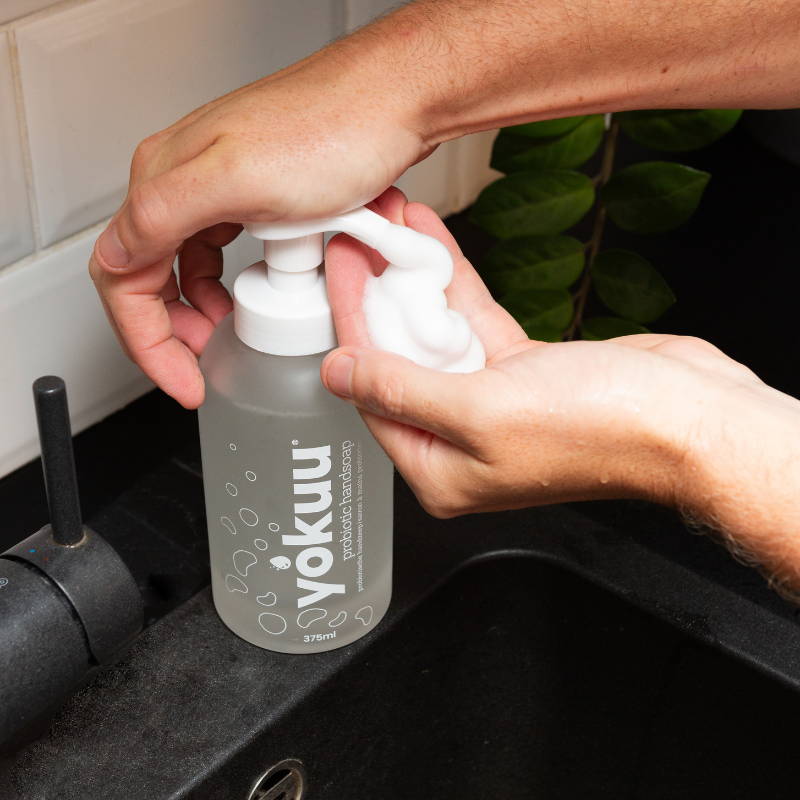 Why YOKUU Created Probiotic Hand Soap
While sanitising hand soaps serve a crucial purpose in a hospital setting, their use at home lacks substantial supporting evidence.
In fact, the overuse of sanitising products can have unwelcome side effects... including dry, cracked skin, redness, discoloration and flaking.
Research has solidly indicated that annihilating all microbes from our hands may not be the best approach for overall health. A prime example is triclosan, which used to be present in over 40% of all antibacterial soaps until it was (fortunately) banned in the US in 2016, and in the EU in 2010. Studies have shown that triclosan not only interferes with the body's thyroid hormone metabolism but is also linked to the development of resistant bacteria. Prior to the ban, producers of antibacterial soaps were asked to provide evidence that their products improved people's health, but they failed to do so.
Triclosan is just one of many concerning ingredients; triclocarban, benzalkonium chloride, and others have raised significant worries about antimicrobial resistance. These substances, widely used in consumer products, may be inadvertently aiding bacteria in developing resistance to antibiotics, prompting several countries to impose restrictions.
In contrast, YOKUU's probiotic hand soap provides a healthier alternative. Unlike conventional hand sanitizers and soaps that obliterate all microbes, our probiotic formula preserves beneficial microorganisms while maintaining effective cleaning. This approach not only promotes improved skin health but also aligns with our broader mission of putting microbes to good use for greater health and happiness.
How YOKUU's Hand Soap Works
Using our probiotic hand soap is a breeze:
1. Fill your forever bottle with warm tap water.
2. Add the tablet.
3. Give the probiotics 60 minutes to wake up.
4. Tada - your foamy, hydrating soap is ready to use!
And when you run out, simply refill your bottle with a refill tablet, available on our website.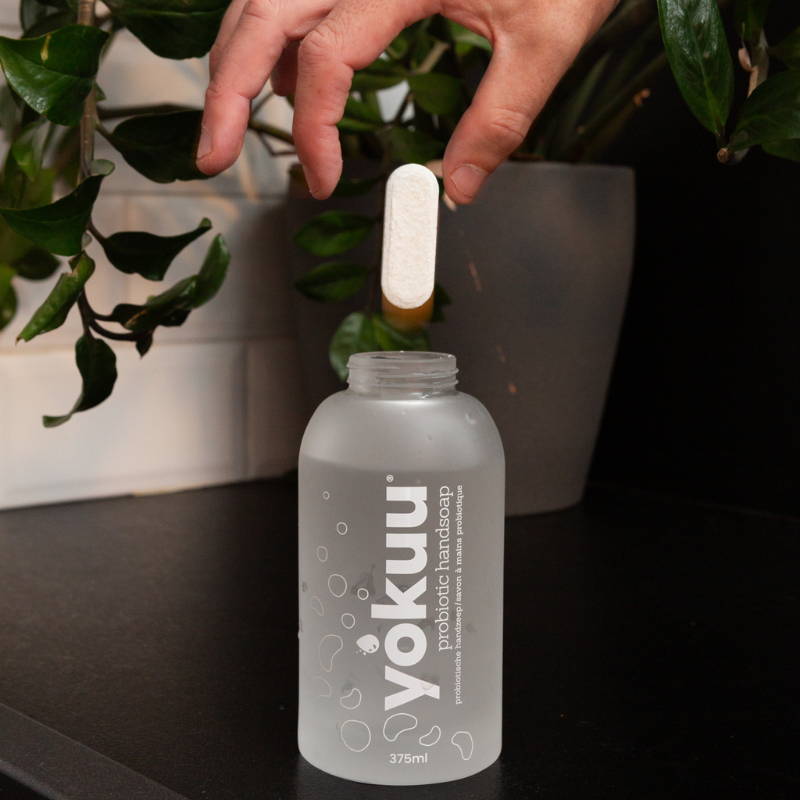 What Does YOKUU's Hand Soap Smell Like?
Our hand soap is available in three unique scents:
Thyme & Sea Salt: Imagine rhubarb and thyme by the seaside, grounded with a hint of sandalwood.
Wild Berries: Transport yourself to the sun-soaked joy of picking ripe berries – sweet, juicy, and full of summer.

Cucumber & Mint: An uplifting blend as cool as a cucumber, with a refreshing hint of mint.
Can I Use My Own Glass Bottle?
Unfortunately, no. Our hand soap employs a unique mechanism for creating extra foaminess, which requires our specially designed bottle.

For Belgium, Netherlands,
Luxemburg & France

SHARE YOKUU WITH A FRIEND
And receive a 30% discount on all of our products (more info here!)

We donate a portion of our earnings to non-profit organisations